Galaxy Dazzle Glitter - Gel Play UV/LED
customers are viewing this product
Exciting Glitter Gels  that will make your nails sparkle!  This holographic glitter gel works a little like a glitz, and a little like a glitter.
Multi-faceted chunky glitters

Multi-faceted glitter effect

Crisp, monotone glitters

Designed for either full coverage or layering effects

UV or LED cured
UNLEASH YOUR CREATIVITY with Akzentz newest line of UV/LED soak off gel that is specifically developed for nail art.
Bring out your creative spirit with the unmatched potential of these highly pigmented colors and glitters. Gel Play is the ultimate choice for creating vibrant gel art. Created in 5 different varieties to match your artistic vision:
GEL PLAY PAINTS - densely pigmented colours designed for fine detailed nail art. GEL PLAY GLITTERS - shades of vibrant, heavily pigmented glitters.
GEL PLAY GLITTER SHIFTERS - sparkling glitters that shift their tone depending on base colour.
GEL PLAY GLITTER ME - Clear gel base with just the right consistency for adding glitters already owned to create personal glitter gels.
GEL PLAY BLING ON - Thick consistency gel that stays put and is extra strong to keep gems, stones and embellishments on.
Have Questions? Ask An Expert
Customer Reviews
08/02/2021
I recommend this product
Great quality
Love it, it is easy to work with. Lot of sparkle! I used it for pedicure and fro manicure design.
Irina T.

United States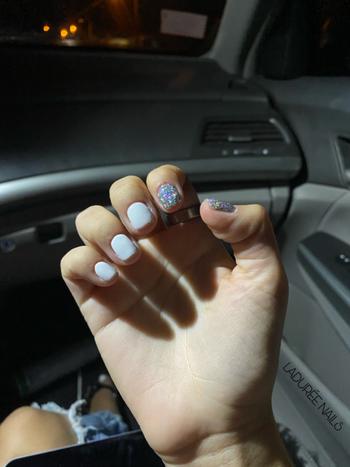 07/06/2020
I recommend this product
I love it
Me encantó y súper rápida l entrega.
Anonymous

United States
12/10/2020
Fantastic!
OMG love those sparkles for the holidays. They are also on high demand among my customers.
Olena V.

United States
12/08/2020
I love it!
the glitter and pigments are just perfect, i love it!
Anonymous

United States
09/11/2020
Me encanto mucho brillo
Exelente
Eliannette K.

United States