Coy - Akzentz Luxio, 15ml/0.5oz
customers are viewing this product
Coy is a soft sheer white.  Fantastic for clients who want white nails but don't want the "white out" look.
Award Winning Gel Polish!  This incredible 100% pure colored gel is created by Akzentz amazing team of chemists to be completely solvent free, long lasting and easily applied!  This unique formula provides numerous benefits:
Easy Application - The product is not runny so it stays where you apply it.
Odor Free - Absolutely NO smell.  Does not smell like nail polish, since it is polish free.  
Flexibility and Strength - Typical gel polish made with polish in it will chip the longer the customer wears the product as it ages and the product gets harder.  Luxio does not age, allowing the customer weeks after weeks after weeks of flawless wear!
Applies beautifully in 1-2 coats - Some colors have such perfect high quality pigment, it can be applied perfectly and opaque with 1 coat.  The coverage is fantastic.
Does Not Wrinkle - Gel polish that is made with part polish must Dry AND Cure at the exact rate it is designed for.  If it does one faster than the other, you get wrinkling.  Luxio is 100% gel and will not dry, so it can be applied slightly thicker than most gel polishes allowing freedom for nail art and french with one coat of white.  
Does not get thick - Solvents dissipating out of the bottle of typical polish causes it to thicken over time.  With Luxio being solvent free, that will never happen!  You can use every drop of your Luxio.
Cures 30 seconds in LED lamps, 2 minutes in UV lamps.
Easy Soak off, 5 min per layer.
Have Questions? Ask An Expert
Customer Reviews
Write a Review
Ask a Question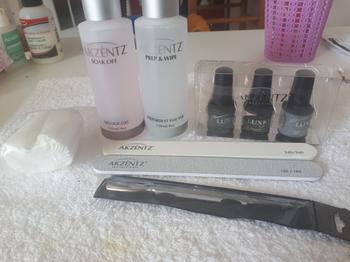 06/04/2020
I recommend this product
excelente los productos
Primera vez que usó los productos y me encantó excelente y lo recomiendo 100 porciento
Stephanie C.

United States
01/22/2022
I recommend this product
Best for ever
Coy is beautiful color
Wendeliz O.

United States
04/06/2021
Coy - Akzentz Luxio, 15ml/0.5oz
El favorito de mis clientes. Un color hermoso y duradero.
EDMARIE B.

United States
03/05/2021
I recommend this product
Nice and easy buying experience
I love that Luxio color, really good coverage and easy to work with. Thank You LuvNailz, definitely will comeback)
Anonymous

United States
02/13/2021
I recommend this product
Softer
This is definitely softer on the eyes. I love this opposed to Polar that can be very harsh.
Alishia M.

United States