Flat Gel Brush #106
customers are viewing this product
Preferred brush for top glosses as it has a flat belly and will glide over the nail nicely. Jessica Briarmoon uses this brush to apply a thin layer of classic gel over the nail for the 30 Day Manicure. It allows for a smooth application with no finish filing. Bristles length: 10mm
Have Questions? Ask An Expert
Customer Reviews
Write a Review
Ask a Question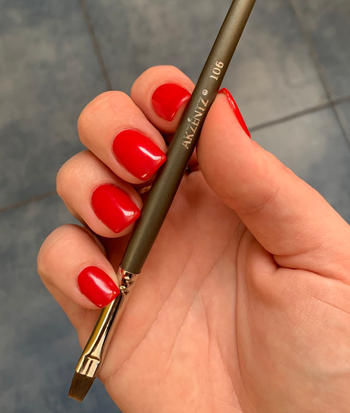 06/18/2020
I recommend this product
Jess knows all!
It makes such a difference when doing natural nail overlays or as Jess calls them "30 day manicures"! I bought the 106 brush, Trinity and a good bunch of Luxio colors and I am in heaven so far! Thanks Jess!
Rachel D.

United States
01/15/2022
I recommend this product
Love
Great brush works great with akzentz
09/22/2021
I recommend this product
Game changer
Listen to Jess, this is the brush for the 30 day manicure. Love it.
JoAnn

United States
09/03/2021
I recommend this product
Flat gel brush #106
Loved it with hard gel!!!
Anonymous

United States
08/08/2021
I recommend this product
Perfect Brush!
Highly recommend this brush for applying Trinity gel for overlays. It's a total game changer! After watching several of Jess' videos on YouTube, I tried switching from an oval brush to this flat square brush and it makes all the difference, especially when applying Trinity. I even bought a spare, but have been using my original for several months and it is still perfect. Get this brush!!!
Jen W.

United States