Top Gloss - Luxio
customers are viewing this product
Luxio is 100% pure gel that is odourless and solvent free. Formulated to coat and protect the natural nail. Luxio delivers ease of application along with maximum control making it the perfect choice for a long lasting gel manicure or pedicure. Most "gel polish" is nail polish with a little bit of gel. Luxio has NO polish, it is pigmented gel. What does this mean? - Does not have to cure AND dry, it only cures - which means NO wrinkling! - You do not have to worry about getting the product tissue paper thin, some techs actually do one only 1 coat since Luxio has excellent coverage. - No nail polish odor - Does not get brittle over time the way that polish does at it gets "old" - the 100% gel product stays flexible an resists chipping for as long as you wear it. - Stabilizers prevent the pigment from going to the bottom of the jar, shake a new bottle well when you receive it - but you will not have to shake it often! - No solvents in the bottle mean nothing is evaporating - your Luxio will not thicken in the bottle. Soak-off Gel Cures 30 seconds in LED lamp Cures 2 minutes in standard UV Lamp 15ml/0.5oz.
Have Questions? Ask An Expert
Customer Reviews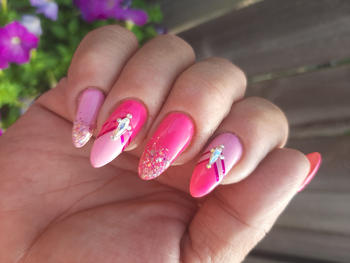 07/08/2020
I recommend this product
LOOK NO FURTHER
After watching Jess use this I decided to give it a try. This top coat is AMAZING!!!! Jess is right, Luxio Top Coat is the perfect viscosity to finish off the nail and fix any imperfections I might have missed and that means a lot when you are at the last step of a service. No ONE wants to back up or let a client leave with a imperfect nail but even better is the shine lasts better than ANY other brand I have EVER used. My mani is 4 weeks old and it still looks as good as the first day I applied it. Another sign for me this is my new "go to" is because I tested it over pin stripping tape. The only way I've ever been able to hold that ****** tape in place is by applying a layer of clear gel over it..... and yes I've always made sure the tape stops just before the sidewalls or free edge. As soon as I got this in I put it on over glitter and stripes and nothing has budged, cracked, chipped or peeled. Now this is quite a feet to behold when I spend 3-4 hrs every morning in the garden. If your shinny nails can stay shinny for weeks under that kind of stress you've found a new best friend. Thanks Jess for all your tips and tricks..... not to mention helping me to stop wasting any more money on other "claim to fame" products that just don't hold up.
Danna

United States
07/02/2021
Nereida S.

United States
06/03/2021
Top Gloss Luxio
Mi favorito por siempre, un brillo que dura mucho. Fácil aplicación.
Edmarie B.

United States
06/03/2021
Top Gloss Luxio
Excellent
Edmarie B.

United States
04/11/2021
The gloss of all gloss
I'm loving this top coat! Jess was right. It fills in the little imperfections and I save time.
Kita W.

United States